We sincerely invite all member companies of the alliance to join the upcoming Yulon Nissan Factory visit. Yulon Nissan, a leading automotive company, is pleased to extend this invitation to you, providing an opportunity to witness firsthand their advanced production facilities and innovative technologies.
Event Details:
Date: Tuesday, August 8th, 2023
Time: 14:00-19:00
Location: No. 39-2, Bogongkeng, Xihu Village, Sanyi Township, Miaoli County, Taiwan (next to the Sanyi Interchange of Zhongshan Highway)
Hosted by: Yulon Nissan Motor Co., Ltd. (Sanyi Factory)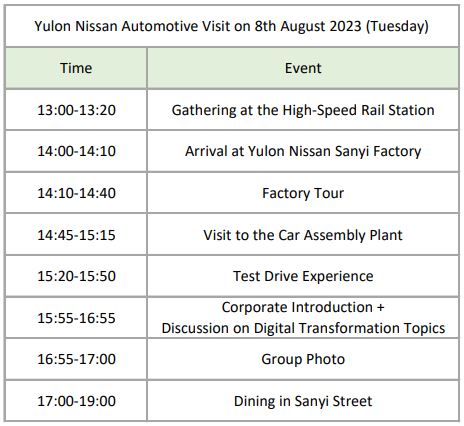 During this visit, you will have the opportunity to explore the Yulon Nissan's first automotive tourism factory in Taiwan. The tour will include visits to the car assembly area, electric vehicle technology exhibition, and interactive sessions with their professional team. You will gain insights into the production process, quality control measures, and the latest automotive technologies.
Additionally, a small seminar has been prepared to introduce the development history of Yulon Nissan, innovative technologies, and to discuss topics related to digital transformation. The itinerary concludes with a networking session over a meal, providing an opportunity for participants to interact and foster connections. Please let us know if you have any special dietary requirements.
On behalf of our team, we look forward to your participation and sharing this unique visit opportunity. We highly encourage the participation of all member companies in this visit, as it offers valuable insights into Yulon Nissan's operations and provides an excellent opportunity for industry professionals to exchange knowledge. Please ensure to register before the specified deadline to secure your spot for this visit. We eagerly await your presence at the event.