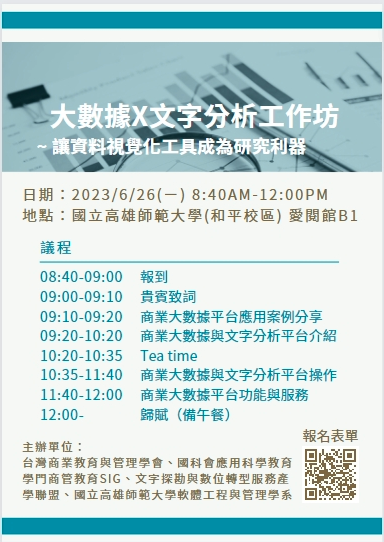 Big Data X Text Analysis Workshop: Empowering Data Visualization Tools as Research Weapons
Event Date: June 26, 2023 (Monday) 08:40 AM – 12:00 PM
Location: National Kaohsiung Normal University (He Ping Campus), Love Reading Library B1
The Big Data X Text Analysis Workshop is organized by the Taiwan Association for Business Education and Management. It is co-hosted by Professor He Shujun, the principal investigator of the alliance joint project. The workshop aims to enhance participants' digital capabilities by applying data processing and text analysis using the Business Big Data Platform of the College of Management at Sun Yat-sen University.
Event Description: Digital transformation and smart manufacturing are the trends driving industry development, and the accumulation of massive data has made data a crucial basis for decision-making. Big data and data visualization have become essential tools for enhancing competitiveness. The Big Data X Text Analysis Workshop primarily aims to introduce the powerful tool of text analysis in the context of big data analytics, specifically the Business Big Data Text Analysis Platform. Through practical demonstrations, the workshop assists researchers in understanding the functionalities and simple operational steps of the text analysis platform. Researchers can easily grasp the techniques for conducting big data text analysis without the need for late-night coding sessions. This workshop enables participants to effortlessly perform data analysis and data visualization, empowering their abilities in academic research, industry-academia collaborations, and teaching.
Event Agenda: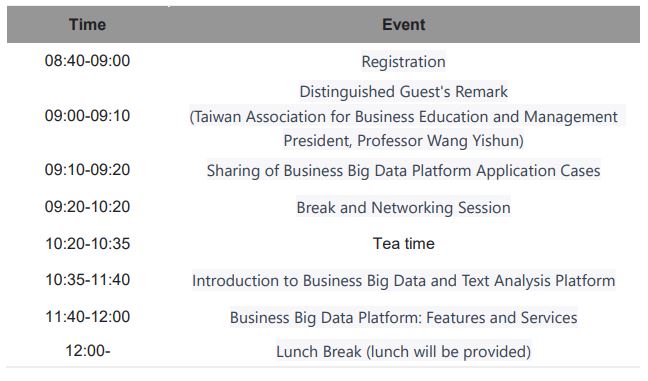 Organizers: Taiwan Association for Business Education and Management, Applied Science Education_Business Management SIG, Text Mining and Digital Transformation Service Industry-Academia Alliance, Department of Software Engineering and Management, National Kaohsiung Normal University.