Text analysis, also known as text mining, combines natural language processing with data mining techniques and has matured significantly in recent years. Its application in various industries has increased substantially. Its use in academic research is also on the rise, as the volume of textual data continues to grow. Teachers and students often face the challenge of interpreting, classifying, and evaluating large amounts of text data. Text mining techniques excel in such scenarios by enabling rapid and effective integration analysis, providing researchers with an alternative research method.
The Text Mining and Digital Transformation Service Industry-Academia Alliance was established with funding from the National Science Council. Its purpose is to utilize text mining techniques to assist various industries in their digital transformation efforts. The alliance has developed a text analysis workflow platform, which is the first of its kind in Taiwan for both Chinese and English text analysis. This platform is a no-code cloud service, allowing users to complete text analysis tasks through a drag-and-drop interface.
In this workshop, Professor He Shujun will share how to use text mining methods in business management research. Following that, Dr. Zhang Jia-Ming, a doctoral student, will guide the participants from the basics of text mining to practical hands-on experience with the system platform. Participants will have the opportunity to explore the application value and features of the text analysis workflow platform.
This year's second alliance briefing will primarily target academic members for recruitment. It will be held in conjunction with the 2023 International Conference on Information Management (ICIM 2023), organized by the College of Management, National Sun Yat-sen University. Through a Text Analysis Workshop, more members from the academic community will be introduced to the usage of the Text Analysis Workflow Platform.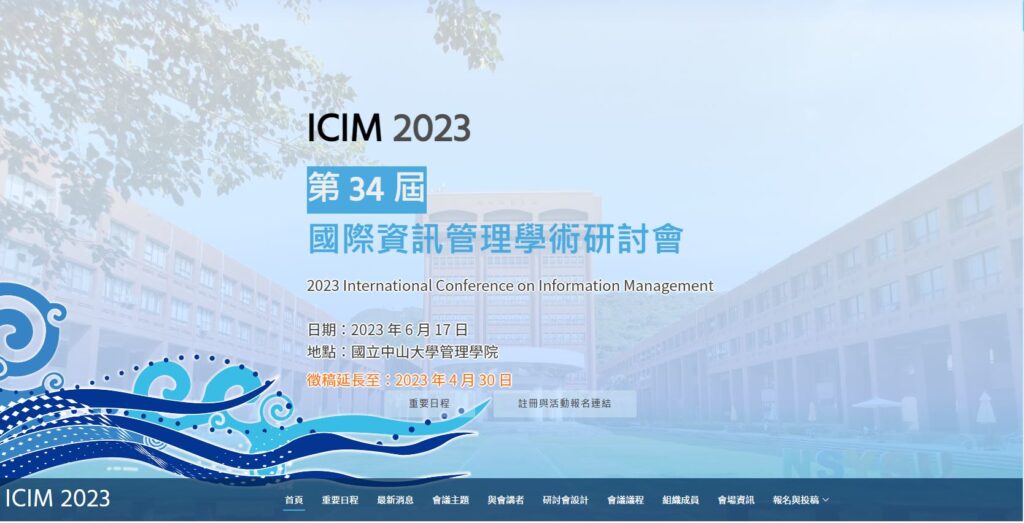 Conference website:https://icim2023.mis.nsysu.edu.tw/